Good Luck with that !!! I have a Remington New Army 1858 myself !!! Mine is made by F. LLI. Pietta Company, and I picked it up from Dixie Gun Works, for $195.00. It was not super pricey at all, and is, one of my favorite, and MOST ACCURATE guns in my collection.
The grips, unlike the colts, or other models, are fairly precision pieces of work, they have the half moon curve at the top of the grips, and fit very closely to the backstrap, with a positioning hole, that fits into a metal peg, in the backstrap casting. Then the screw, fits through the middle of the grip, being fed through a pass through estruchean, and threading into a female esstlruchean. It's a bit of precision wood working to be sure.
I do these kinds of projects myself, and sometimes people look at me like I am nuts... Why would you spend all that work and effort to make something you could have just bought for about 40 bux?
Ummm... I dunno... because the block of wood was laying on my work bench... begging for a life of meaning and purpose??? And not to be just tossed out, in the trash, to live a useless life as a rotting block of useless wood in a landfill?
I have no answers for these kinds of questions!!!... I do what I do because I love doing it !!!
Thats why !!!
Remember... if things get tough, take a breather, grab a beer, get a sandwich, come back in a half hour, and hit it again...
You'll "Git Er Done !!!"
Sincerely,
Elvin Warrior... aka... David
The 1858 Remington New Model 44 Calilber Revolver, with "Brass" frame, backstrap and trigger gaurd, the Hammer and Trigger are case hardened Steel, and everything else is deep blued. It is manufactured by F. LLI. Pietta Company, Of Italy, and can be purchased for $195.00 from Dixie Gun Works (DGW), of Tennessee... Notice the Long, oversized cylinder, I can pack 35 Grains of BP in this puppy, with AMPLE room for the lubricating wad, and .454 Ball, or, No wad, and lubrication Grooved, .451 Conicals... AND NO WORRIES about stressing the backstrap. The backstrap of modern reproduction guns are NOT made of brass, like the old days, which could twist and warp on an overload, the newly manufactured arms are made with a new type of bronze, that finishes and looks like brass, but isn't brass, it's Bronze, much stronger, and more durable.
My next little puppy on my "wish list", The 1858 Navy, Sherrifs model, 36 Caliber, with a 5-12" barrel, also by Pietta, but NOT OFFERED by Dixie, EMF, Early Modern Firearms, carries this one, at around $225.00, and a CHECKERED GRIP.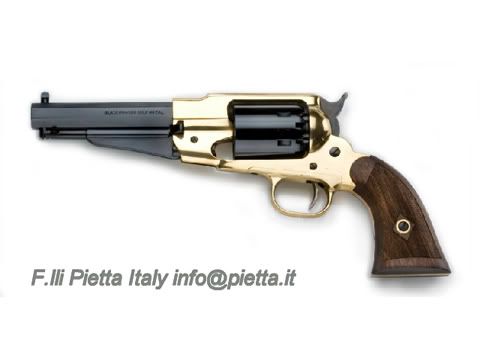 OR - You can order the nickel plated version for about $40.00 more, cheap enough, but... I really think this one would look better with the imitation Ivory grips, which Dixie does carry, for an outrageous $65.00 for a set of injection molded plastic pretend Ivory Grips... (Where do these get these prices from???... $12.00 is what I would value a set of plastic injection molded grips at.... Right? For 65 Bux I would DEMAND a set of machine carved actual real stag horn grips, now THAT would be HANDSOME on the nickel plated one !!!)
And... the Coupe De Gras, of my Wet Dreams, Wish List... The Le-Mat.... Oh Christ... I need a drink to steady my nerves....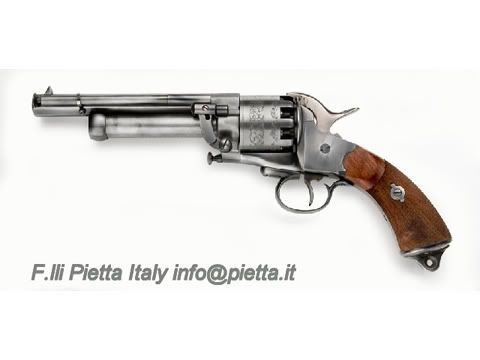 Or... just to confuse you even more, and make you think about looking around again, AFTER you already made up your mind and settled on a pistol... This ONE... This one is also offered by EMF, in their section called "Historical" Guns... It is an EXACT REPRODUCTION of the engraved, Gold and Nickle plated PAIR of pistols made famous by Wild Bill Hicock... They were listing this pistol at $535.00... But, BUT, they have a SALE ON right now... Right Now, you can have this puppy for $350.00!!! Tempting.... very, very tempting !!!

Have Fun With It !!!
ElvinWarrior... aka.. David