Seven hardy souls showed up at 7:30 AM in the fog and 34 degree temp a while back to take on our first annual North Alabama Shooting Association Sporter Master Match. We shoot five regular .22 sporter weight rifle matches on a regular basis. This pentathlon challenged the competitors to shoot a single rifle, scope, and ammo type in all five matches in one day. The club officers and directors even agreed to spring for a CZ 452 Special to be awarded to the first place shooter.
Since there were seven shooters, a first place shooter in an event would earn seven Sporter Master points, a second place shooter would earn six, etc. etc.. If shooters had tie scores then we added the points for there places together and divided those by the number of tied scores. The 50/25 Silhouette Match has the most lenient rules for qualifying a competitor's rifle. So, we thought it best to use its simple rules. They are: The rifle and scope (of any magnification) must weigh no more than 8.5 lbs, not have a thumbhole stock, and have a "safe" trigger.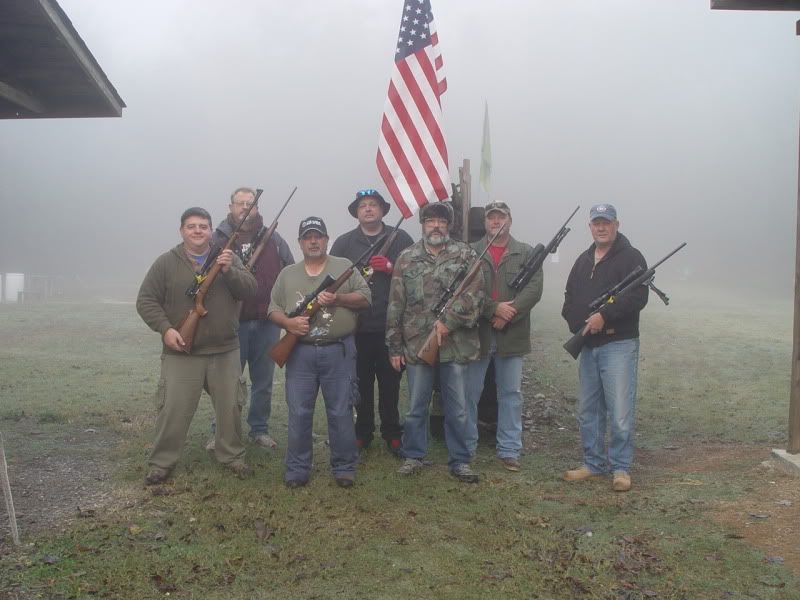 The precision bench rest match was first and we decided to let the fog burn off before we began shooting. I used the opportunity to get an individual pic of each shooter and his rifle:
Ricky King with his Savage Mk II FV and Shooter's Edge 6-18X40 scope. He fired Wolf MT ammo.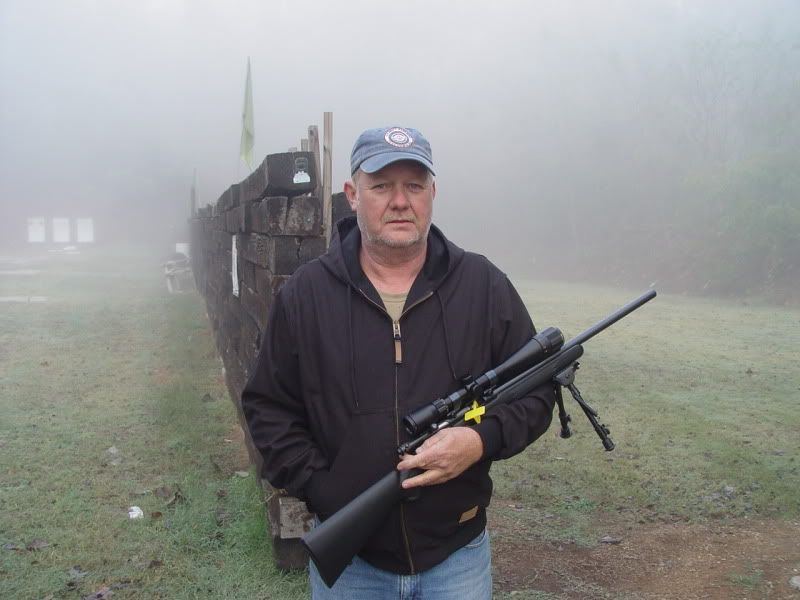 Paul Enlow with his Tribal Stocked CZ 452 American and its Mueller 4.5-14X40 glass. He fired American Eagle HV solids.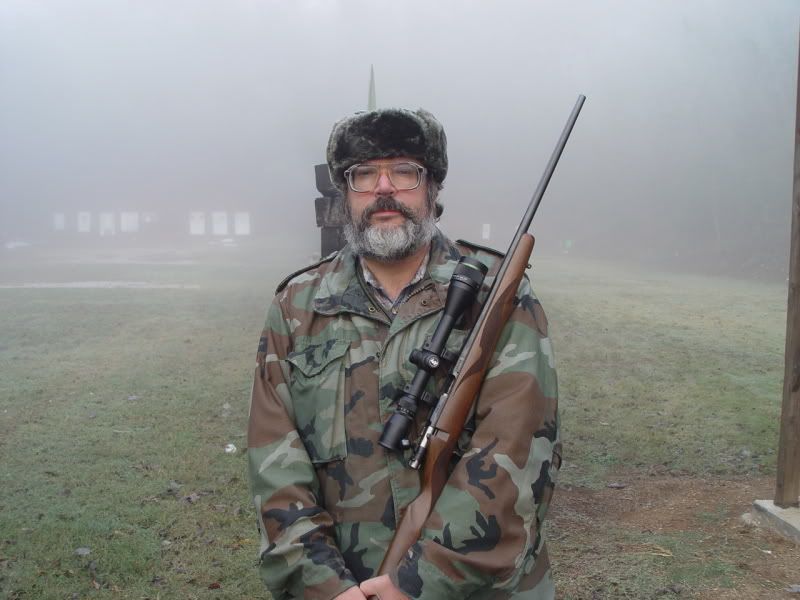 David Hollimon with his CZ American and its Tasco 6-24X40 scope. He fired Wofl MT ammo.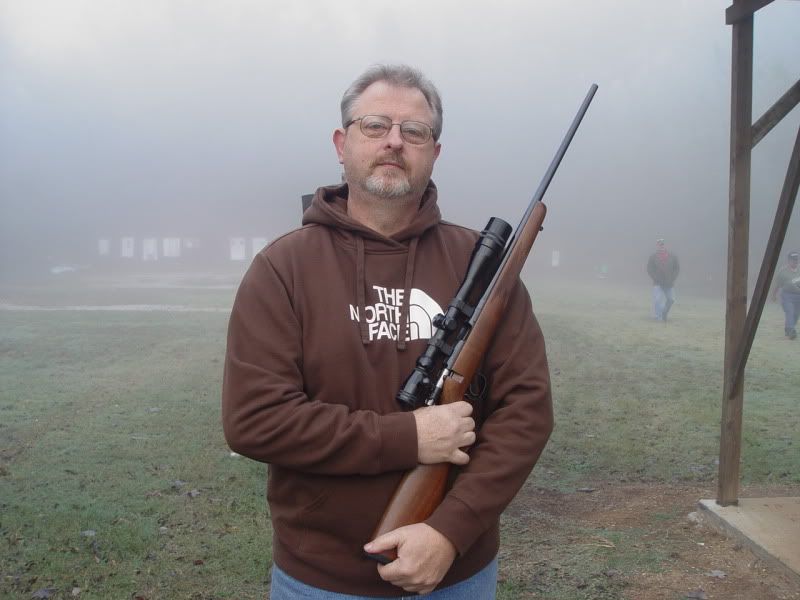 Danny Creasy with his 20 year old Anschutz 1710 sporter and a Weaver V-16. He fired SK Rifle Match.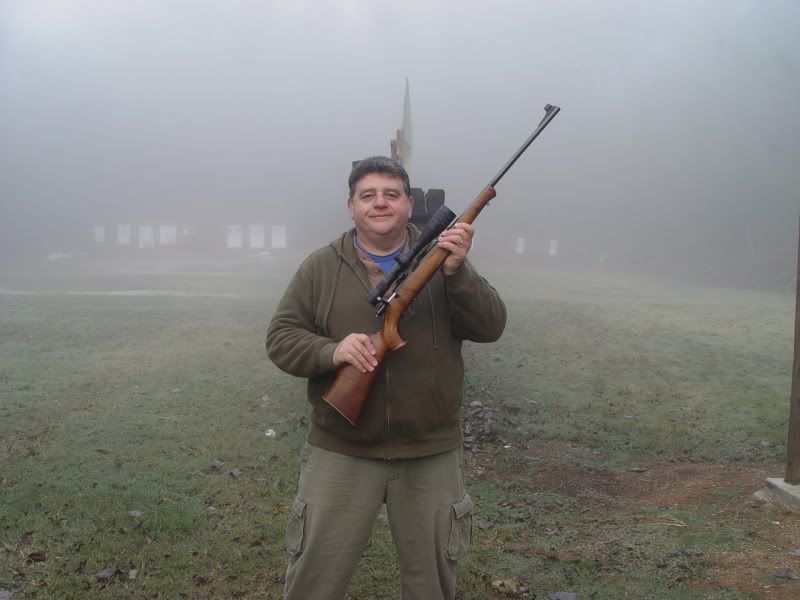 Ulus Farris with his CZ American and a Tasco World Class 4-16X40 scope. He fired Federal 714 throughout the day.
Randy King with his CZ 452 Silhouette and a Center Point 4-16X40 scope. He fired Wolf MT ammunition.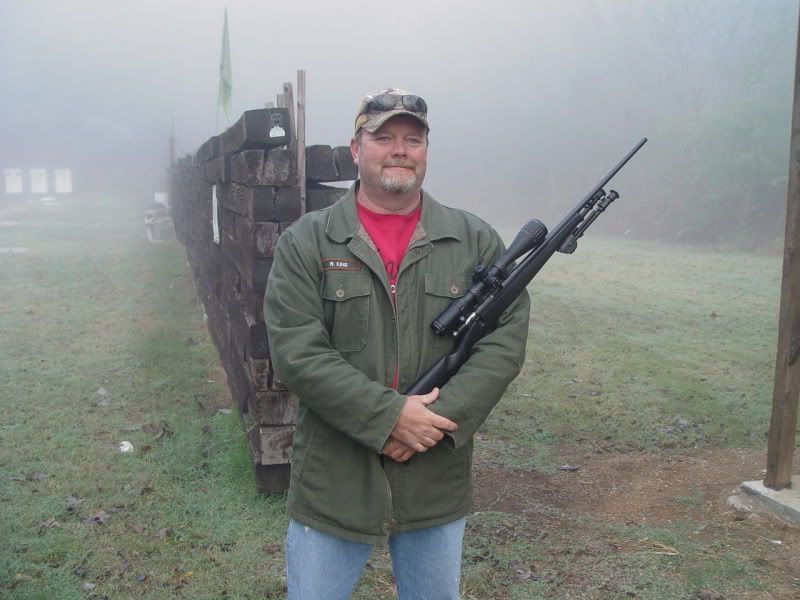 Tony Gilmore with his Savage Mk II BV and a Tasco World Class 6-24X44 scope. He fired Eley Black Box.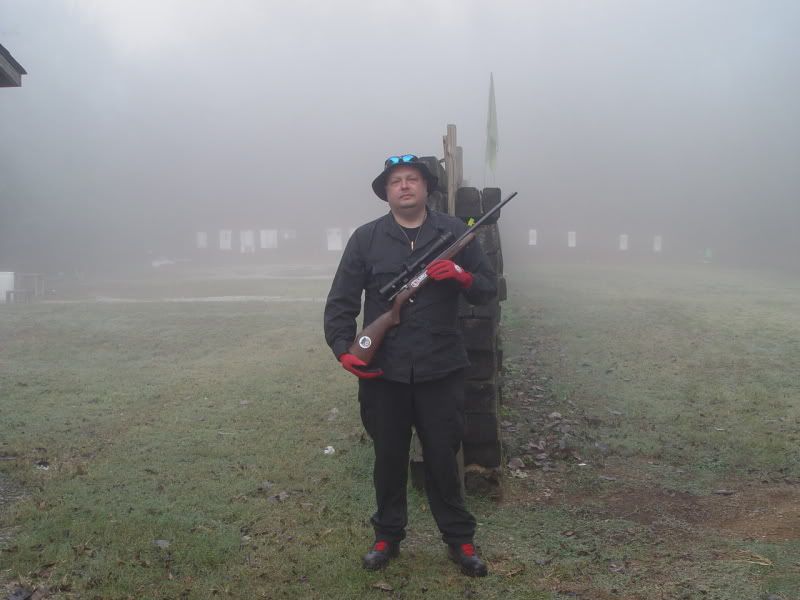 We finally got shooting about 8:30 AM and Ricky King took the USBR Sporter event with a smokin score fired using a BiPod instead of a benchrest:
Ricky King - 229-1X
David Hollimon - 217-3X
Randy King - 212-2X
Danny Creasy - 209-1X
Tony Gilmore - 205-0X
Paul Enlow - 189-1X
Ulus Farris - 185-0X
Fifty yards, USBR target (Green Monster), precision benchrest match, a front bench rest or bi-pod could be used along with a rear bag.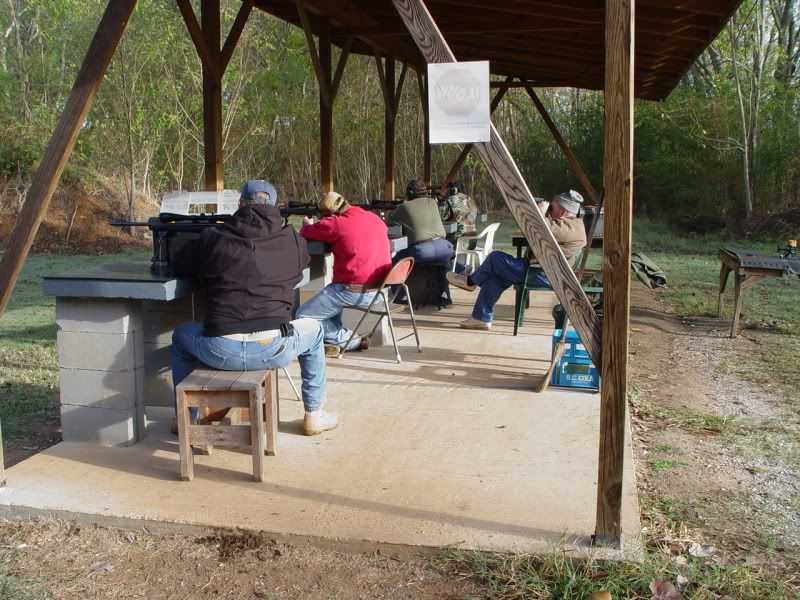 Ricky's winning USBR target:
With the skies clear and a marvelous day shaping up, we next fired the 50/25 Sporter Silhouette Match - Ricky won top honors in that event as well:
Ricky - 6/0
3 way tie between Danny, Randy, and David all with 7/0s
Tony - 11/0
Ulus - 12/0
Paul - 15/0
An offhand 50 yard steel silhouette match of local origin. 25 rounds at 25 targets in 10 minutes and the man with the least critters standing at the end wins (Ricky left six standing and did not hit the tiebreaker target). There is a small tiebraking target in the top row but none of our sporter masters wanted to gamble a round on it this day - thus the zeros - if someone had taken down the tiebreaking target then they would have had a 1 instead of a zero and thus placed higher than a shooter that left the same number of targets standing. Sometimes shooters take the same number of animals and both get the tiebreaker and still wind up tied.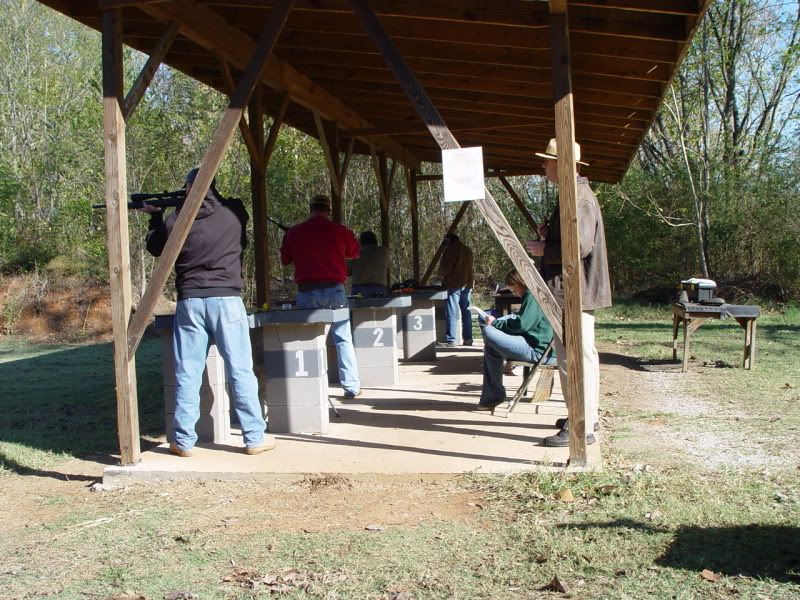 We moved the silhouette racks up to 25 yards and shot the Rapidfire Rimfire event. Randy King shot smoothly to first place. Since everyone chose to shoot a bolt action today, there was no need for action handicapping. Here are the times (seconds) minus any clean run bonuses:
Randy King 62.65 seconds
Danny Creasy 70.20
Ricky King 70.73
Paul Enlow 79.69
David Hollimon 86.03
Ulus Farris 104.85
Tony Gilmore 108.31
Same rack of targets as the 50/25 but the tiebreaker target is removed and the shooters make a run at each of the four rows of different animal silhouettes against a stop watch. Low time wins. If a shooter cleans a six critter row then he gets 3 seconds removed from his time for that row. In a regular RFRF Match, most folks shoot automatics but we have seasoned handicaps established to make bolts, levers, and pumps competitive.
We took a lunch break and then returned to shoot the three slow fire stages of CMP Rimfire Sporter. Danny Creasy edged out David Hollimon for first via X count:
Danny Creasy - 100-9X, 99-5X, 96-4X = 295-18X
David Hollimon - 100-5X, 98-5X, 97-1X = 295-11X
Randy King - 100-6X, 91-1X, 98-6X = 289-13X
Ricky King - 97-6X, 91-1X, 99-3X = 287-10X
Paul Enlow - 92-1X, 91-3X, 97-2X = 280-6X
Tony Gilmore - 95-2X, 83-1X, 89-2X = 267-5X
Ulus Farris - 89-0X, 84-1X, 93-0X = 264-1X
Just the slow fire prone, sitting, and offhand stages of the well established CMP Rimfire Sporter Match.
Prone firing line: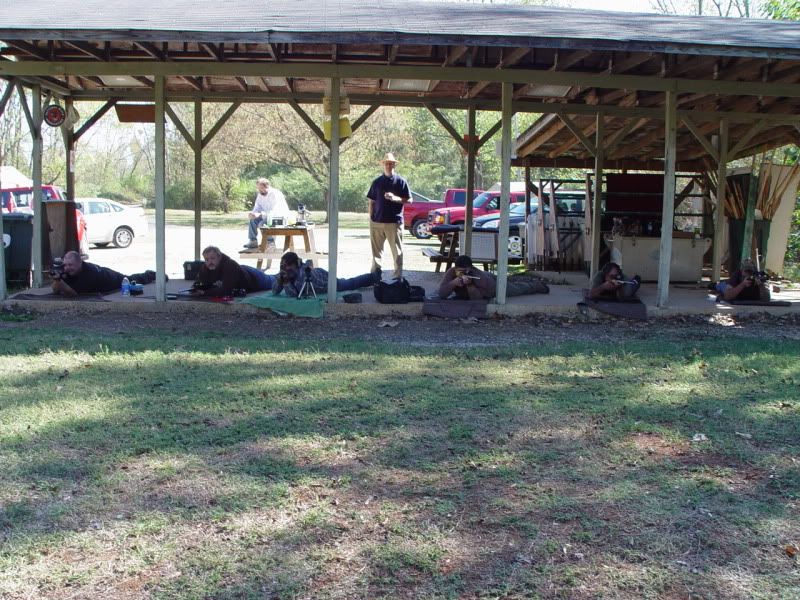 The last match of the day was our quirky little local match that we named Rimfire Raptor. The Raptor Match score is the number of rifle chickens (1.5" X 2.5") that one leaves standing at 81 yards. The shooter has a minute after a standing start (rifle and bipod or throw down bag in hand) to go prone and engage five of the little birds with 10 rounds (does this three times). The shooter can use a bi-pod or a throw down bag but no rear rest is allowed. The shooter's score is the number of birds left standing totaled from all three strings.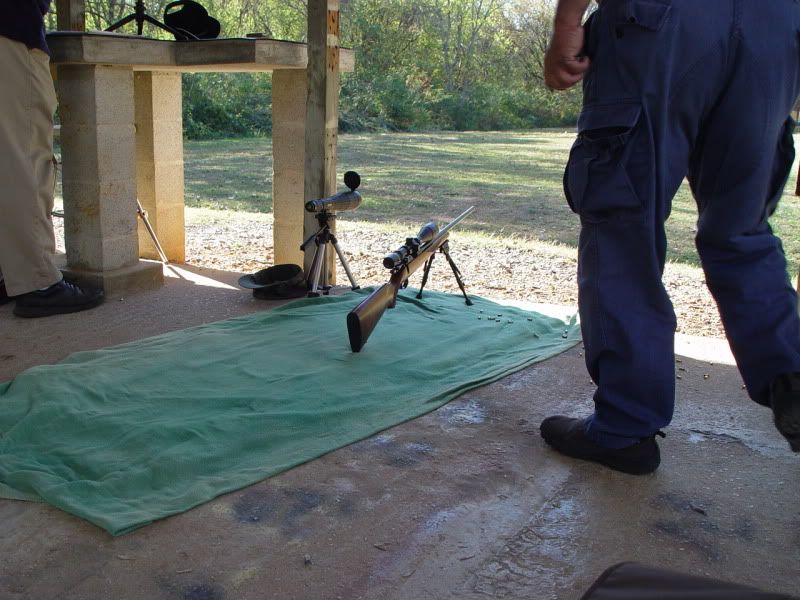 Directions: Squeeze trigger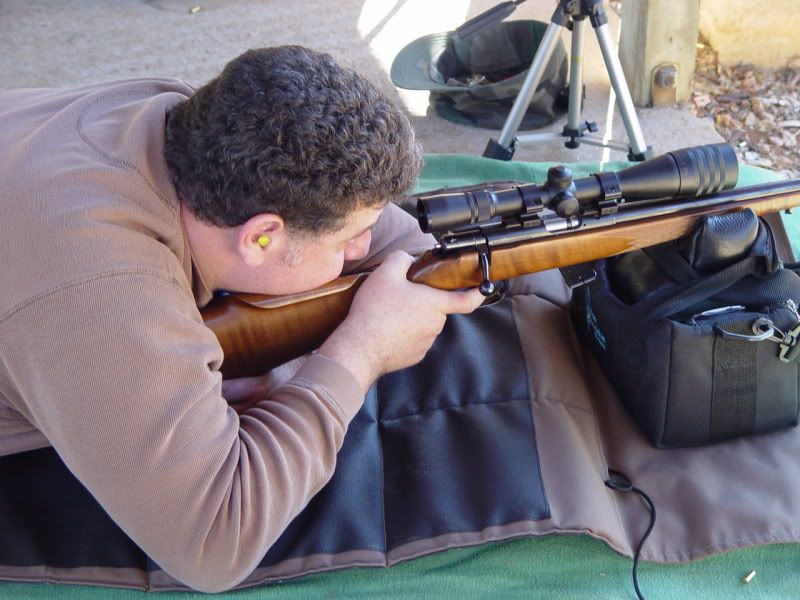 Rack the bolt, repeat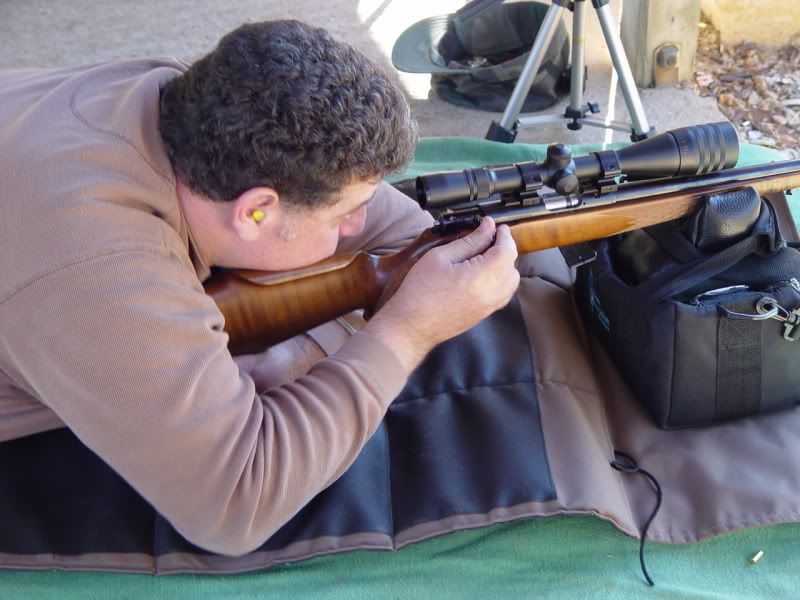 We had four shooters score zeros and three score twos:
Ulus Farris - 0
Randy King - 0
David Hollimon - 0
Danny Creasy - 0
Tony Gilmore - 2
Ricky King - 2
Paul Enlow - 2
Here is the leader board that we updated after each event:
As the reader can see, Randy and Danny tied in Sporter Master points. Thus, we had to employ the tie breaker rule from the original match announcement:
In the remote possibility that we have a tie score for first place overall, the tied shooter with the highest combined scores in the USBR and the CMP Sporter matches will be declared 22 Sporter Master.
What an exciting day!
Danny's 50 yard prone target was a big contributor (100-9x):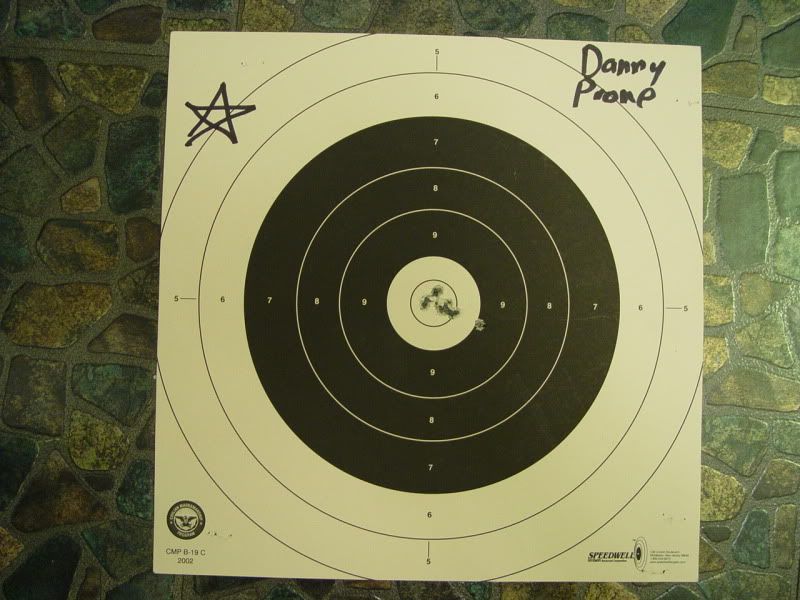 NASA, Inc. Club President, Dwight Pilkilton, presented Danny with the Grand Master First Place Award:
For the slide show, click below:
http://www.youtube.com/watch?v=vGZp1nE6pXc