I know I have posted my accuracy tests using the Lee Factory Crimp die in the past, so I hope you don't mind if I do it again.
I purchased a K of Midsouth's 55gr Varmint Nightmare JHP bullets for about $90.
I decided to test this new to me bullets in my Colt AR both with a Lee crimp and without. My crimp is what I call a Med-Light.
I chose Win 748 as it has worked well for me in the past with 50-55gr bullets.
I fired five rounds at each target allowing the barrel to cool between each five round group. This is the first set of groups.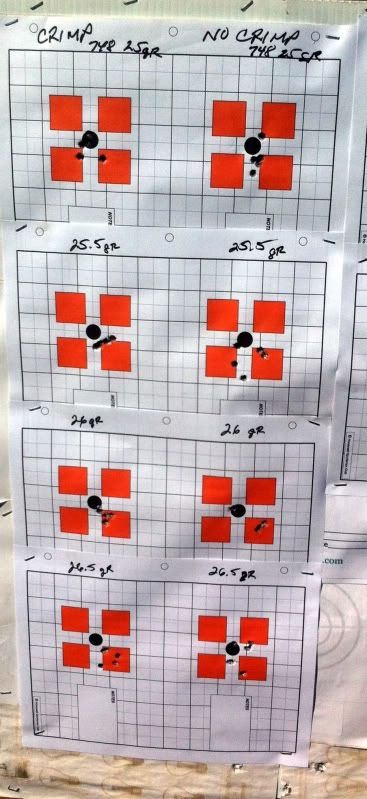 I then fired five shot groups from the bottom up starting at 26.5gr and working up the target to 25gr. I did not let the barrel cool at all. The only down time between rounds was loading the mag.
As you can see these bullets shoot damn good for cheap bullets and you can see that the rounds crimped with the LFCD outperformed the non crimped rounds.
26gr Crimped is a winner in my book.