Discussion Starter
·
#1
·
When I got a sly e-mail from a deep cover unnamed source behind the wire at the fortified High Noon Holster facility to tip me the wink that something was coming, I knew it must be good. High Noon makes the best quality leather I've found anywhere, and this had to be even better, as it was said to be different from anything else they had done. Considering the wide variety of incredible rigs I've gotten from High Noon, that was saying something!
The usual Big Brown Truck pulled up, and the UPS guy handed me the box, smiling…did he know, too?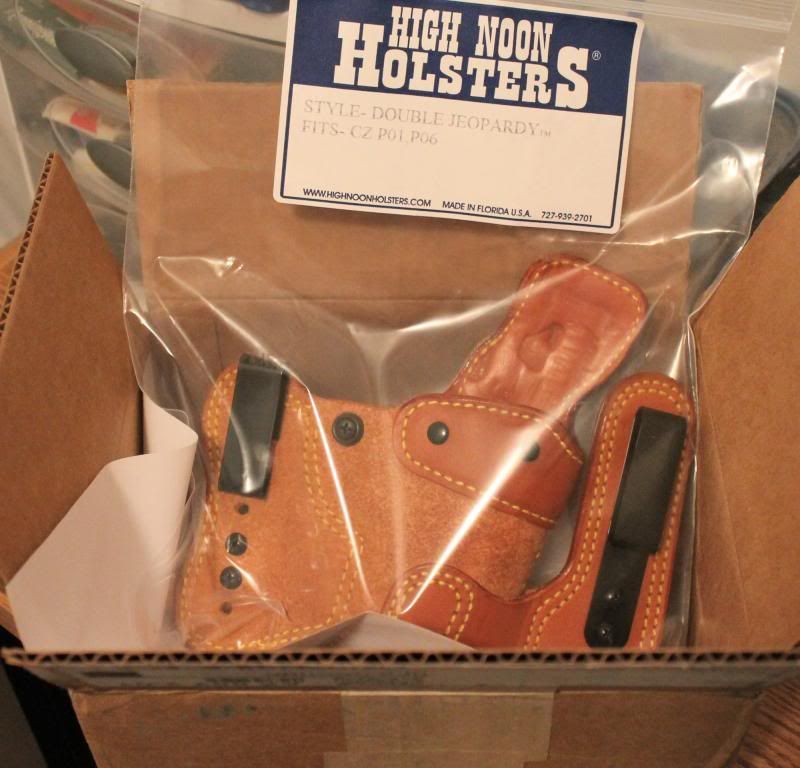 This is one slick looking rig, let me tell you. Tell me, do you see something odd?
Yes, the clips DO look a little odd, don't they? Let's get right to the heart of the name, why this sexy leather rig is called the Double Jeopardy. See, the clips can be inset for a regular IWB rig, and with J hooks - far superior to the cheaper regular clips you find on, *shudder*, nylon rigs. But the clips on this particular holster do not look the same…au contraire, my friend; they are simply set up differently to show off the Double Jeopardy's unique aspect - "To tuck, or not to tuck, THAT is the question!"
That's right, the clips can be unscrewed, (with effort, they are designed to not move after being adjusted, so you need a little elbow grease to get them to move), and adjusted along the length of 6 holes in the front and 5 in the rear for the perfect angle and ride height for you, but also, can be slipped in the little slot provided to give a normal profile IWB rig, (on the left),or screwed OUTSIDE, as shown on the right, for use as tuckable rig! That's right, versatile and practical at the same time - I tend to appreciate things like that.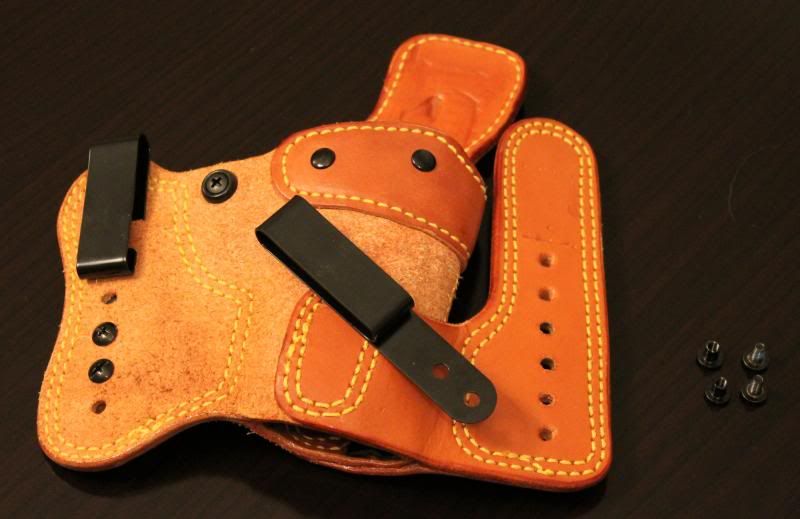 Now to the other important stuff - holster fit. Here it is with my venerable CZ P-01 9mm pistol, riding inside.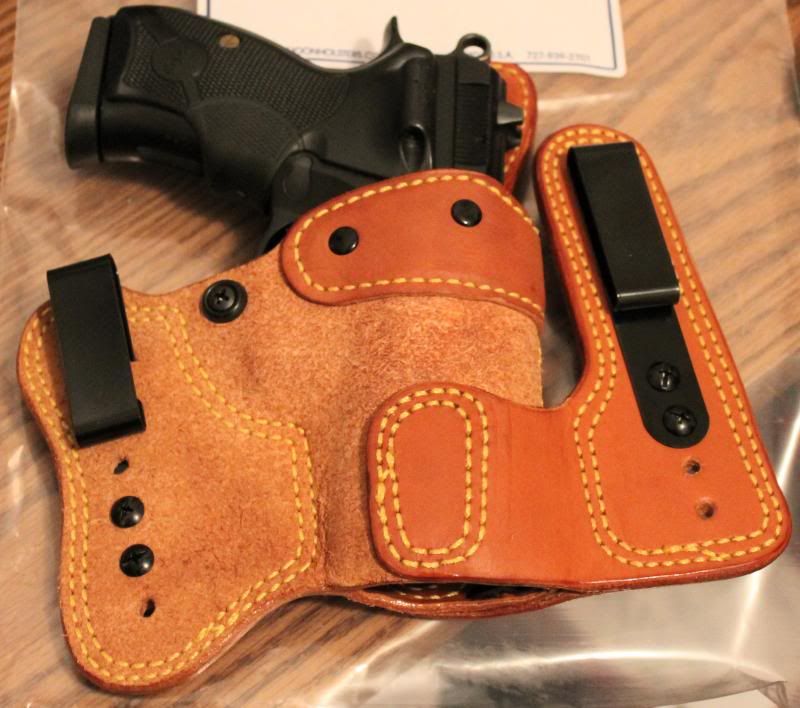 The fit is perfect, as if it had been broken in like some cheaper models must be. The gun snapped in and stayed right where it was supposed to, but gave a smooth draw. Here is a good friend of mine trying the Double Jeopardy at our local outdoor range,
She had never used an inside the waistband rig before in her life, but instantly fell in love with the Double Jeopardy, and told me that when she gets her P-01, she's going to get this rig, too.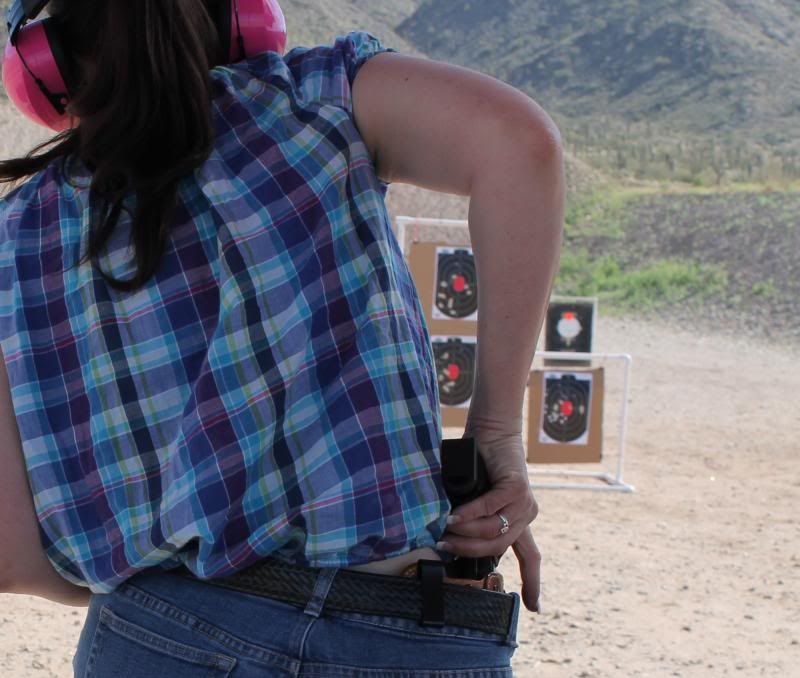 Draw was easy and fast. Despite the fact that the J hooks are wide enough for a full size belt, the High Noon Rock Steady I wear and the general issue law enforcement trousers belt she was wearing kept the gun right where we put it.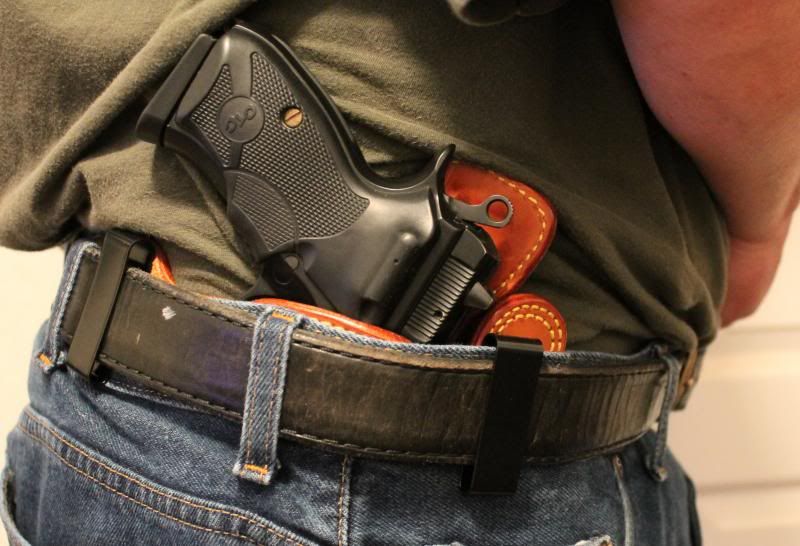 Yes, I agree, the Double Jeopardy looks better on her…but I ain't givin' it up! This is a very comfortable holster, and I will be playing with the adjustments for some time to get that just right angle and height…because I can. I love a holster that gives me so many options coupled with an iron clad reputation.
But I digress; there are a few more features you should see, such as this high speed/low drag molded and stitched in place sight track.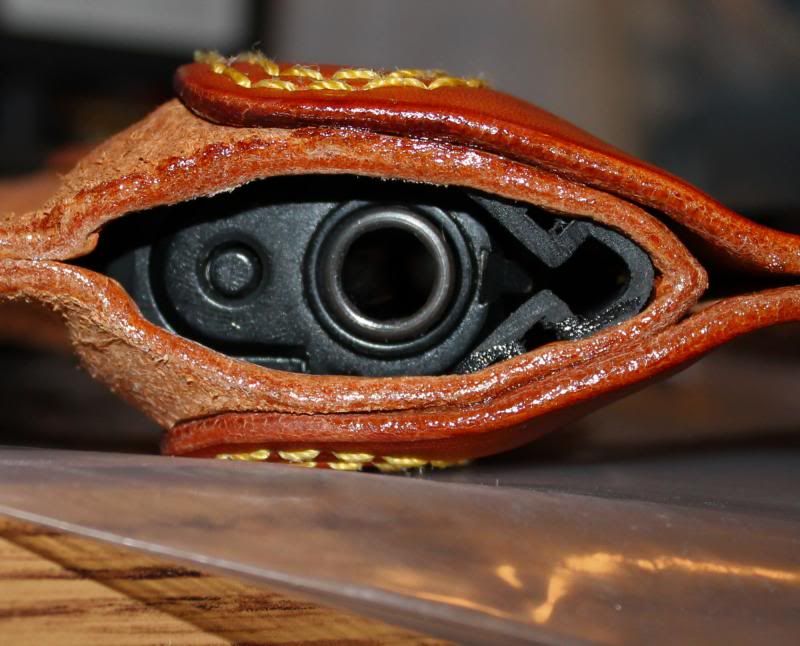 That's just too awesome - no matter what style of carry sights you have, this rig will make sure they aren't bothered.
Look at the back, note the rough out leather for retention, and see something else.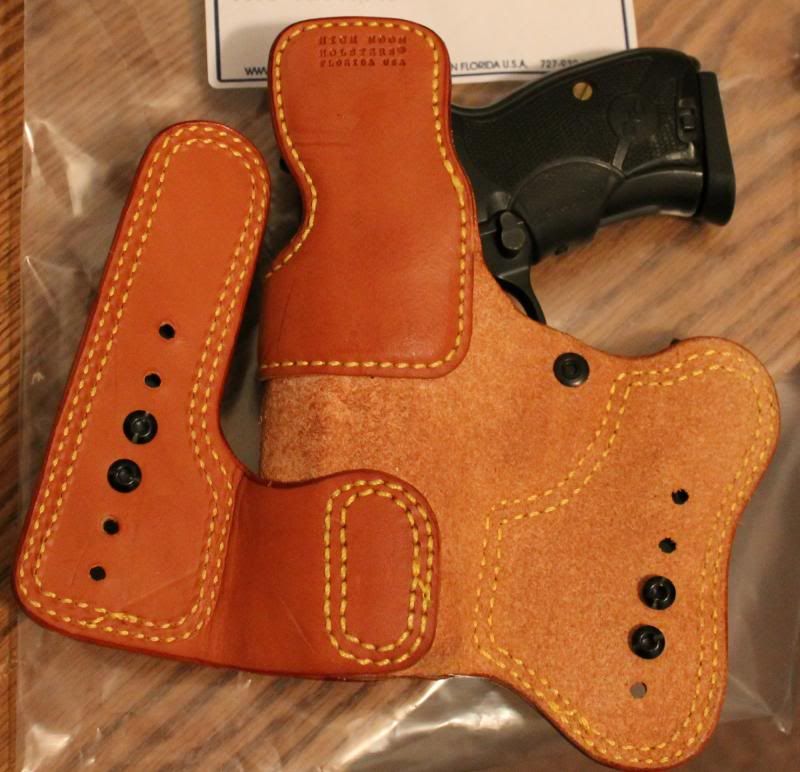 That sweat shield is thick enough to be medieval armor! Since I will be carrying this in Arizona summers that will be very important - steel and salt sweat generally don't get along very well.
Also note the tensioning screw right behind the holster body, to give the perfect retention that YOU want, not that some cheapo nylon rig maker feels you should have. Stitching is doubled and heavy duty - this rig is meant to last. Some people may gripe at the price, but I will say it flat - with this many options, the Double Jeopardy is more holster than you will get almost anywhere else, no matter the price tag. Simply put, it's worth it.