Discussion Starter
·
#1
·
You ever seen a grown man giggle like a school girl? I did, yesterday.
Let me back up a bit, to when I discovered that High Noon Holsters had recently brought in something nobody else could, the new Red Nichols line of holsters, made in Australia and imported exclusively by High Noon Holsters. I had never heard of the man, so I investigated the section on High Noon's web page showing who the man is, and all I can say is someone is missing a movie idea.
http://www.highnoonholsters.com/Product_Line/Nichols_Home_Page/About_Us/about_us.html
Long story short, the genius behind so many big name leather products in the past is now doing limited edition rigs for High Noon…and I wanted to see one. Had to see one - this stuff looked very nice. Only one small problem - I don't own a pistol that he makes holsters for, as apparently it is very difficult to get the blue guns in Australia to form holsters around. Dagnabbit. Aha! I have a very good friend who has a Browning Hi Power, (which IS on the list!), who rarely carries it…because he always complains about the holster he has!
Did anyone else hear a bell and see a light go off? Thought so.
Fast forward to a slow boat leaving Australia, docking in Florida, and the Big Brown Truck arriving in Arizona. Now THAT'S a long trip for a piece of leather!
The first look was, well, wow. Really, that was the first word I said.
When I unbagged it, I realized that the stock photo on the website didn't come close to doing it justice. This is one SOLID holster, quality in every stich and fold.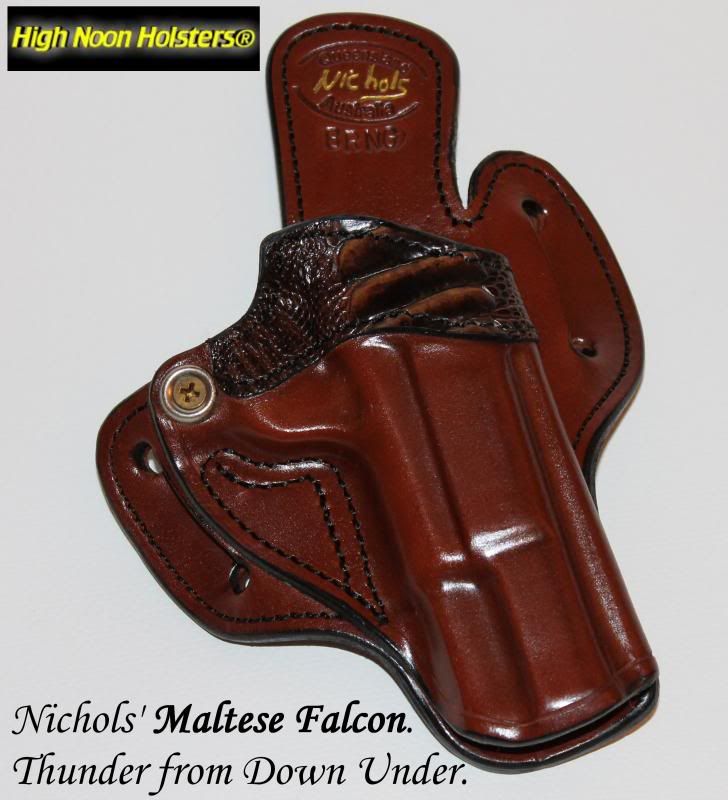 Well, without the gun, there wasn't much I could do else, but lay in wait…er, "plan to surprise" my buddy with it soon That day came yesterday. Like I said - ever see a grown man giggle like a schoolgirl? I did.
He removed it from the plastic bag and was instantly in awe. His pistol, a well-worn and reliable Hi Power he's had for many years, slid in as if the Red Nichols holster had been broken in for 6 months. The fit was, to overuse a word, perfect.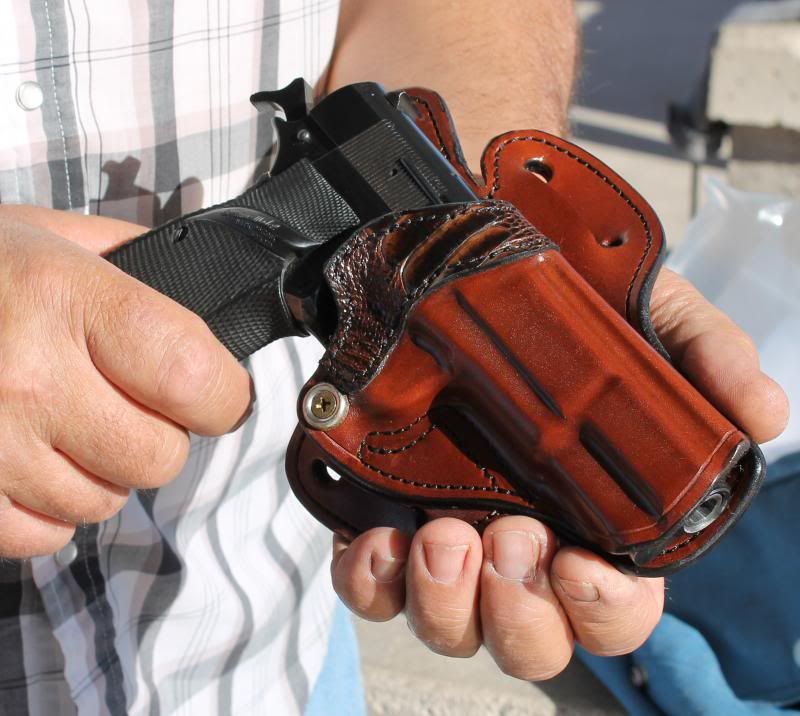 It took no time at all for him to throw it on,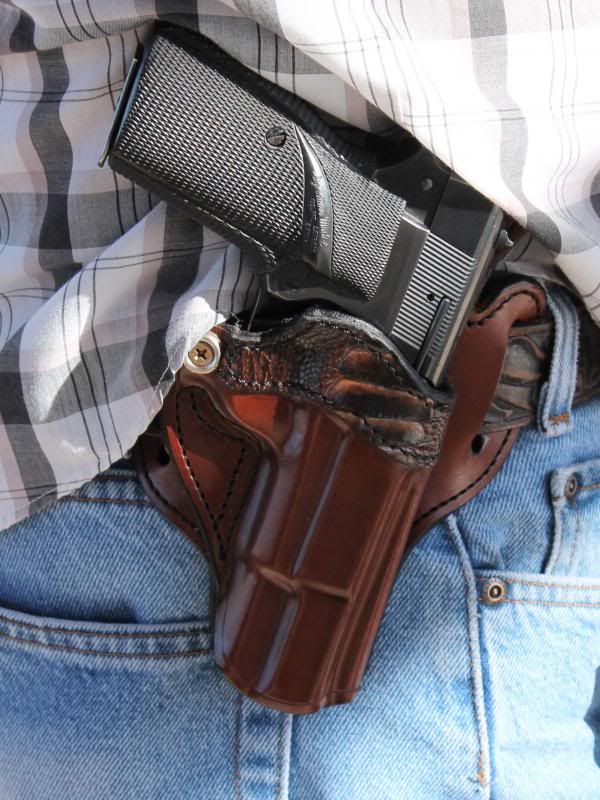 The comments commenced, "This rides right where I like my holster." "This is so comfortable I can't believe it's there." "Where has this thing been all my life?"
The holster itself is built like a tank, and I have NO doubt whatsoever it will do very well in Arizona's heat. Hey, it's a Aussie - they like the heat, too. That slide shield was sung and smooth on my buddy, and he said it was placed in the exact spot to keep his blued pistol off the sweat producer, AKA, him.
The skeleton slots were much heavier duty than I had expected, overbuilt and molded so as to give zero movement on the belt. This holster was going nowhere he didn't want it to go. He kept marveling on the rugged construction, and yet with that ostrich accent, we had to conclude it IS possible to be beautiful AND tough. This rig got more than one look on the range. If we were in Texas, this would be a barbecue rig.
We didn't spend the whole time ooh and ahhing, after all - this is a working rig for a working sidearm, and it got used.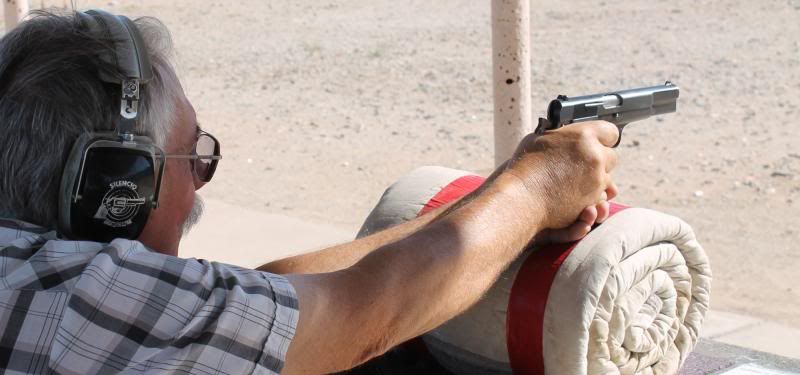 The final comment was the best, though…as I was pulling into my driveway after it was all over, he called me. I asked, "Don't tell me, I left something behind?"
"No, but I thought I did - this holster is so comfortable I thought I left my gun behind!"
We'll leave out the comment about waterproofing and showers…
Giggly school girls, I'm telling ya. He's already looking to get another one for his Colt 1911.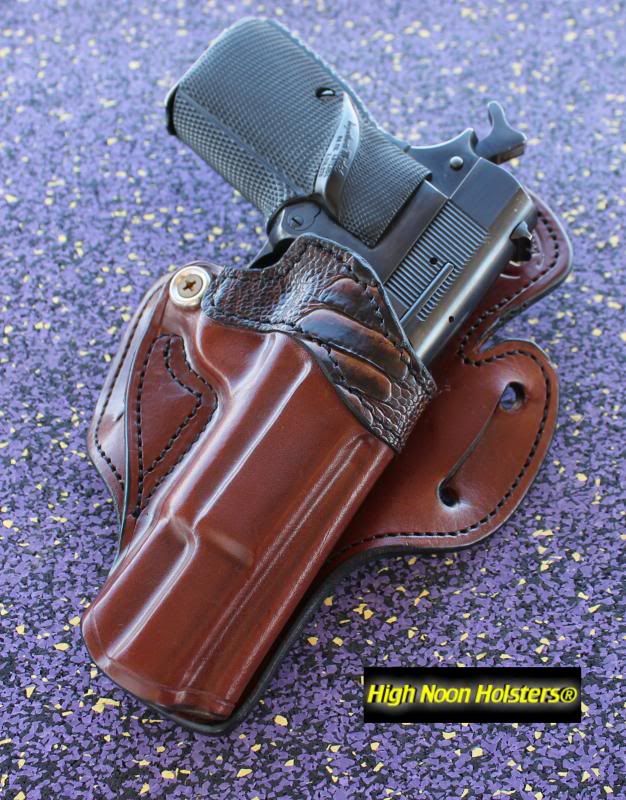 http://www.highnoonholsters.com/Product_Line/Nichols_Home_Page/nichols_home_page.html