Discussion Starter
·
#1
·
I always take on the daunting task of trying to ID my military rifle's many markings. Just got this Czech VZ24. I believe it was ordered by Romania originally. Any help on additional markings would be greatly appreciated, I would love to get some history on this one!
1. "E" - pistol grip
2. "SZ" symbol, faded round stamp, crossed out PR20321 - stock/butt
3. triangle (or V with line over), 'cursive "r"' shape - barrel
4. R - barrel (Romania I believe...)
5. "26" (Inspector# I'm assuming), two "M"' with partial box around it - barrel, receiver
6. Serial#DR21260 - Romanian ordered I believe...
7. "3" on top of stock
1.
2.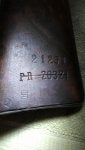 3.
4.
5.
6.
7.