I did not get up one morning and think to myself "Hey, I need another plastic 9mm, and I am going for a Remington this time!". When I saw them priced at less than $300 bucks, it seemed a good deal. I researched, and read reviews both positive and negative, and I noted that the American Rifleman had given it an Editors Pick. When Remington offered a $100 rebate on them, it became a REALLY good price, and my wife actually said "At less than $200, you can't afford NOT to buy one!" - and who can resist that kind of encouragement?
So I bought one, and when my gun store in Dickson called and told me it was in, I drove over and picked it up.
The counterman was unimpressed, but I liked both the look and the feel. The slide is a nice departure from the typical slab-sided auto, having a rounded taper from bottom to top, and the overall lettering and finish are quite nice.
Please note that in these photographs, the light was right on the border line of adequacy, so some flashed and some did not. I know that outside daylight shots are best, but give me a break, please, because it is well below freezing here as I write this!!
As received, this is how it looked, and what came with it:
I field stripped it, following the directions in the manual, and frankly I was amazed at how quick and easy it was! First, lock the slide back: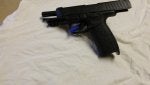 Then rotate the rear of the takedown lever downward:
Then, while holding the slide, release it and let it come forward slowly while depressing the trigger:
until the slide is completely free:
Ease the rear if the recoil spring assembly up from the slide and remove it:
Then move the barrel just a bit forward, then lift the breech end up from the slide and slide it out to the rear:
I have never seen an auto that stripped this easily, and re-assembly is just the reverse, and just as simple.
After cleaning and lubing, I loaded up a magazine with 18 rounds. that last round requires a thumb of steel and an arm like Hulk to get it in, but it DOES go in there.
Outside, I slow fired several shots to determine if the sights were reasonable. They are three dot, easy to see, and accurate enough for any SD issue, right out of the box. Then I rapid fired, because some early reviews of this gun found feed issues. It operated flawlessly, although I admit I only fired it with FMJ. The trigger is crisp and clean, with a short reset which I particularly like.
When I was done. most shell casings were in a small zone to my right rear, but it was too cold to crawl around feeling through the leaves to locate all of them.
The pistol comes with three different thicknesses of back straps, so it can be customized to your hand. To change them requires a small pin punch to tap out the roll pin located at the bottom of the backstrap which passes through a loop in the frame. If you have no punch, an aluminum trim nail with the point cut off will suffice! I tried all three, and settled on the thickest one, which fits my hand the best.
Then there is the issue with the right side slide release which does not function. Several reviewers slammed this pistol because that slide release does not work.
I have combed through the manual, and NO WHERE does it even mention this release, which could only be used by left-handed shooting. Going through my arsenal, I do not OWN an automatic that has a left handed slide release. But, I have to admit that this pistol does APPEAR to have one, but it does not work due to excess flexing internally.
I am making a wild guess here that Remington plans to make a left handed slide for this pistol - one that ejects the shell casing to the LEFT side - and I believe on that one, this slide release will function properly.
Overall, I like this pistol. It fits me, it holds one more round than my Glock, and I found the trigger just has a better feel.
This will alternate as my EDC in the future, and I highly recommend it in spite of the reviews that panned it.